Here at Strazzeri Mancini, there are multiple ways in which to engage us in assisting you with your matters. From Asset Protection Planning to Estate Planning and a myriad of other legal arenas we specialize in, we like to maintain a steady pulse on the economy and the changes that happen frequently.
By keeping in tune to what the laws are and what the future might hold, we feel strongly that we are able to offer a very comprehensive and complete legal perspective for our current clients and potential clients.
We hold our Family Care Workshops specifially for the purpose of highlighting our insights and findings for our clients (and potential clients). Some workshops are social events, like our July BBQ (you can watch the Video Trailer by clicking here), some are educational events, like the event we held this month in our offices. Below is a snippet of the workshop.
Watch the Video Trailer of our Family Care Workshop Program
We are excited to announce that our October Family Care Workshop is now available in digital format. The digital format includes the following:
Downloadable MP3 Audio
Downloadable PowerPoint PDF Notes
Full Viewable PowerPoint Presentation
Listen to the MP3 Audio On Demand
Some of the topics covered in the workshop incude:
Real Estate
Asset Protection
Probate/Estate Law
Economy & Investments
Tax Law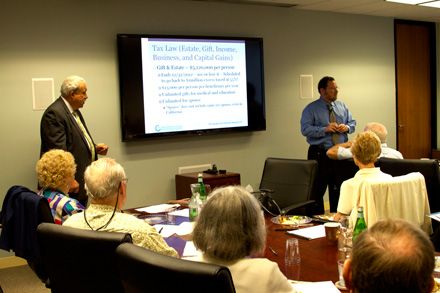 To gain FULL ACCESS to the entire Digital Program: CLICK HERE